Katusemaailm is a company specialised in the sale of roofing products and systems near Tallinn. During its 24 years of operation, the company has extended its product range to cover not only the most common roofing materials, but also lead-throughs, roof safety products, green roof and roof terrace systems, and rainwater and fall protection systems. In the past, Katusemaailm served only B2B customers, but nowadays, the company also has a shop for consumers.
Urmas Danil has been working as technical expert at Katusemaailm for a couple of years. He describes his work as interesting and varied.
Our product range is extensive, which means each day is different and there is always something new to learn, Urmas says.
Because Katusemaailm has product expertise and knowhow in many sectors, it is able to serve its customers comprehensively. Instead of simply selling products, the company provides solutions that are tailored to the customer's needs and starting points. At best, these solutions can be highly innovative and bring concrete benefits and even competitive advantages to the customer's business. Urmas takes the example of fall protection systems that are designed for flat roofs. It is not possible to build a wire system on all roofs, and some roofs do not have enough space for counterweight railing. Katusemaailm solved the problem by designing and implementing a made-to-measure safety rail on top of the rim platform.
It is rewarding to receive praise from our customers for our agility and technically professional service. In addition to basic stock products, we also offer tailor-made comprehensive solutions, which many of our customers appreciate.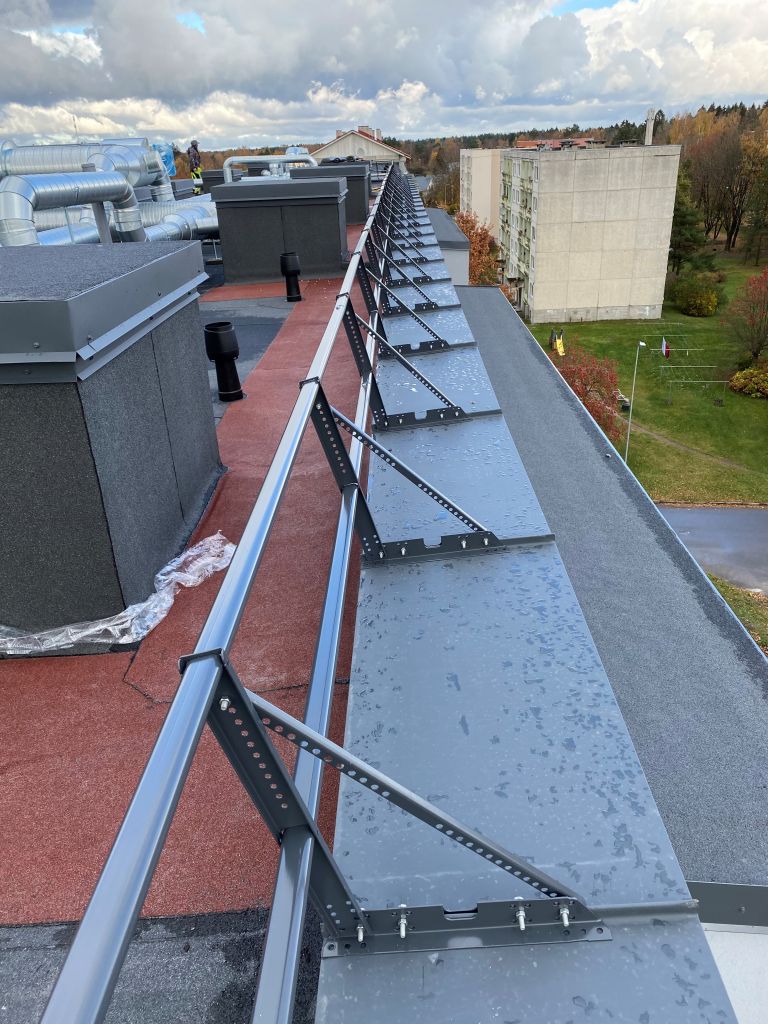 Urmas says that local rooftop operators and designers often contact Katusemaailm, seeking advice and providing valuable feedback from the field. The company uses this feedback to develop its products and services further. For example, the company has received many inquiries about solar panel fastening systems recently. Katusemaailm has already started negotiations on these with its Finnish supplier Nesco.
Although COVID-19 has tested the market in many ways, Katusemaailm and the roofing sector have been busy. The company just hired two new sales employees.
Despite COVID-19, roofs are being built at a rapid pace, and this means that our future is looking bright, Urmas says.